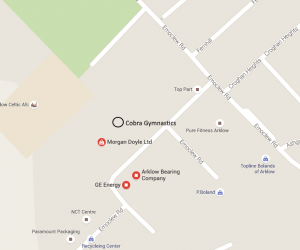 Directions to Cobra Gymnastics club, Unit 3, MDL Park, Croghan Industrial Estate, Arklow:
Take the Arklow South Exit on the N11.
If coming from the Dublin direction take the first turn for Arklow at the first roundabout after the slip road. If coming for the Wexford direction, you will have to take the Arklow turn at two roundabouts after coming off the bypass.
Go straight through the next roundabout, you will pass an Apple Green garage on your right then take the first turn off the next roundabout.
You will pass Boland's Hardware on your left hand side, and then take the next left turn.
You will see a sign for Morgan Doyle's Furniture and Funworks on the right hand side, turn into the gateway after the sign and we are in Unit 3 behind Funworks, there is parking behind the units and a few spaces just across from our unit.